Sustainable Tourism Development
Welcome to Travel Oregon's Sustainable Travel Network – Travel Oregon Forever.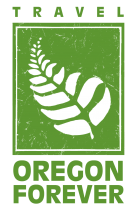 Oregon has had a long history of being sustainability pioneers, from the passing of one of the nation's first comprehensive bottle bills and recycling programs, to progressive land use laws, to developing one of the most diverse transportation systems in the United States – Oregon has been at the forefront of protecting and preserving our natural and human capital. Now, Travel Oregon invites you to help make a better Oregon and a wise investment in your business and participate in Travel Oregon Forever programming, including:
Committing to the triple bottom line approach to sustainability (people, planet, and profit) has its merits; more than 55 million Americans think of themselves as sustainable travelers. Even more are willing to pay a premium to use a travel company that strives to protect and preserve the environment. Oregon travel businesses are leading the way in sustainable travel practices, and Travel Oregon's Sustainable Travel Network, Travel Oregon Forever, will help you make the most of this promising travel trend!
By certifying and promoting your environmentally responsible business, as the Green Seal program declares – one of the most rigorous certification programs out there – you can:
Improve the environment by reducing toxic pollution and waste, conserving resources and habitats, and minimizing global warming and ozone depletion
Increase the health and well-being of your customers, particularly those most affected by product choice, such as schoolchildren, service staff, and the elderly
Demonstrate that environmentally responsible products and services can meet or exceed performance and quality expectations
Gain access to new customers and high-value niche markets
Increase customer loyalty among your core clientele
Improve community relations
Boost your profitability and enhance your brand
With your commitment to sustainable practices and the stewardship of our state, we can make Oregon a better place to live and visit, now and forever.
See the left sidebar for a full sweet of our sustainability programming and additional information and resources.
About the Video: The Travel Oregon Forever Fund video, produced by Maser Films, is designed to educate people about the Fund and inspire them get Give Back to Oregon. If are interested in learning how to become a Fund participating business or a Fund beneficiary, please go here. 
Sustainable Travel Network
Want more information about Sustainable Tourism Development?
If you have additional questions or comments about Sustainable Tourism Development, please contact the appropriate member of the Travel Oregon staff listed below.