Sustainable Business Challenge
Become a Travel Oregon Forever Business by completing the Sustainable Business Challenge today!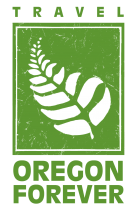 Is your company committed to environmentally sustainable and socially responsible practices? If so, you can bring special attention to your efforts by participating in Travel Oregon's Sustainable Business Challenge and become part of the Travel Oregon Forever network – a highly esteemed network of pioneering companies and destinations working to make Oregon a better place to live and visit.
What is the Sustainable Business Challenge
It's a recognition program for businesses that offer services or experiences to visitors. The program is designed to quantify and qualify the commitment Oregon's tourism and hospitality businesses are making to environmentally and socially responsible practices.
How Your Businesses can Participate
Complete Travel Oregon's self-assessment, documenting your sustainability practices; or
Demonstrate that you have a current second- or third-party verified certification by an accredited certification program recognized by Travel Oregon (view list)
Why Your Business Should Participate
By sharing your company's sustainability practices, you will demonstrate your commitment to improve community and environmental health – a powerful statement that will resonate with your customers. Additionally, when your company completes the Sustainable Business Challenge it will receive:
Who Can Participate
All tourism related operations that offer services to visitors are eligible, including:
Lodging properties
Guides and outfitters
Tour operators
Restaurants/eating establishments
Breweries
Wineries
Spas
Golf courses
Museums
Transportation companies
Visitors information centers
DMOs
Entities offering an educational, cultural, historical or recreational experience
*Please note, while all Oregon businesses are welcome to participate in this program, not all businesses recognized will be listed on our websites. Any Oregon business can become recognized in the Travel Oregon Forever Network, but only tourism-focused businesses that fall in line with Travel Oregon's Business Listing Guidelines can be listed on TravelOregon.com. For lodging businesses, we also require that you have a basic free Oregon Restaurant and Lodging (ORLA) listing. If you are not a member, please fill out an the following application and submit to JStarr@OregonRLA.org. 
Sustainable Business Challenge In Oregon
Want more information about Sustainable Business Challenge?
If you have additional questions or comments about Sustainable Business Challenge, please contact the appropriate member of the Travel Oregon staff listed below.