Why Attend
Learn. Be Inspired. Connect.
The Governor's Conference on Tourism brings the industry together to educate, inspire and connect tourism stakeholders and business partners. Through innovative programming, we help advance, guide and align Oregon's seven diverse regions.
Who Attends
(based on a 3-year average)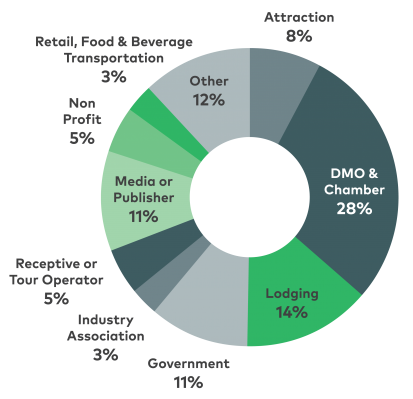 How will the conference benefit my organization and me?
Foster relationships with Oregon's tourism stakeholders and business partners - an unparalleled resource for individuals new to the industry or to the state and those who want to become more involved at a local, regional, state or national level
Opportunity to connect with your regional partners
Learn more about the seven Regional Destination Management Organizations
Access to a full range of industry suppliers and vendors that choose to partner with the Oregon Governor's Conference on Tourism
Professional development is yours for the taking. Find a mentor or become one. Meet partners who can further your career aspirations, discover steps on the "career ladder" in new places, learn of open positions and add to your skills inventory and resume
A complete directory of conference attendees, sponsors and exhibitors, including: Oregon Tourism Commissioners, Travel Oregon staff, regional and local destination management organizations, state and local economic development & other tourism industry organizations