Content Channels & Frequency
Consumers acquire information through a multitude of channels these days spanning print, online, e-newsletters, blogs and social media. Capture the attention of these actively engaged prospects at the right time and place through a multi-channel approach.
Each Travel Oregon channel fulfills a unique niche or consumer need. Specific content goals for each channel are detailed in the abstracts below. As a collective, Travel Oregon travel guides fulfill these common objectives:
Provide travelers with the most trusted source for their Oregon travel inspiration and trip information.
Provide travelers with information resources that inspire travel and consistently convey the exceptional quality of an Oregon experience through design, photography and storytelling.
Provide travelers with ample information details (such as lodging listings, events calendars, etc.) that allow them to easily plan an Oregon trip.
Demonstrate a cohesive Oregon product through a branded family of products that share a similar look, feel and voice.
Key Travel Oregon Content Products
Official Oregon Visitor Guide (Published Annually)
Travel Oregon's Official Visitor Guide provides travelers with details on outdoor recreation, food and drink, culture and heritage, regional travel suggestions and local picks that highlight lesser-known must-see destinations. 250,000 copies are annually distributed through State Welcome Centers, area Visitor Information Centers, Portland International Airport, lodging properties across the state, and in response to requests made via web, phone and mail.
The Oregon Visitor Guide is produced in association with our publisher MediAmerica.  For content and advertising guidelines, please see the attachments above.
TravelOregon.com (Content Published Daily)
TravelOregon.com is the anchor and central hub of our consumer communications platforms. Serving close to 6 million pages viewed annually to nearly 2 million unique visitors who spend an average of approximately four minutes the site provides both inspirational and informational content to pre-qualified consumers curious about Oregon.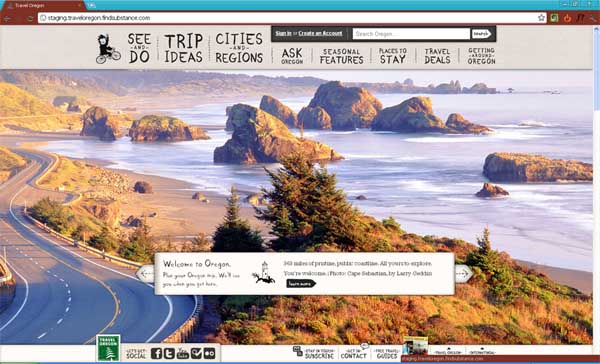 Key content sections of the site include:
For content and advertising guidelines, please see the attachments above.
Travel Oregon Email Newsletters (Content Published Monthly)
Travel Oregon consumer e-mail program aims to keep an Oregon vacation top-of-mind with consumers through feature stories and editorials on unique escape ideas, suggested itineraries and a round of upcoming festivals and events. Currently, we produce three email newsletters; the "core" (general travel edition) is sent to more than 160,000 opt-in subscribers every month. Additionally, two niche email newsletters, Food+Drink and Outdoors, are each delivered six times per year to self-identified foodies and outdoor enthusiasts.
For content and advertising guidelines, please see the attachments above.
Social Media (Content Published Daily)
Harnessing the power of conversations about Oregon has been a constant thread in our interactive efforts since late 2006 with the launch of our blog and GoSeeOregon.com. Travel Oregon's social media outposts serve as the "connective tissue" of our digital ecosystem that empowers travelers and passionate Oregonians. We currently maintain outposts for communities on Facebook, Twitter, YouTube, Pinterest, Instagram, Google+, and TripAdvisor.
For content guidelines, please see the attachments above.