Fall Campaign Toolkit
In anticipation of the upcoming change of seasons, Travel Oregon is launching a new campaign that aims to inspire Oregonians, and those nearby, to find happiness this fall and winter in Oregon. A physical story book is being created to tell the heartwarming tale of two big-footed buds, Yeti and Sasquatch, who find happiness in the winter wonderland we call Oregon.
The campaign launched on Oct. 15 with a new illustration being rolled out weekly across social and digital. The campaign will also include print, OOH and Max Sides. All content will drive visitors to traveloregon.com to follow the adventures of Yeti and Squatch.
The following resources are available to help you leverage the campaign in your region:
What you can do with the new creative:
1. Share your region's images through your social channels, websites and newsletters as they're available:
11/26- Portland Region – Portland dining experience 
2. Take a look the media plans to see where you can leverage Travel Oregon's placement in key markets.
Tips for sharing on social:
Social tactics  
Engage with Travel Oregon content: Comment on Travel Oregon posts with information, images or links to content about the real-life location or other supporting regional attractions.

Copy example: No exaggeration, this place is truly extraordinary – and here is why winter is the best time to visit:
Copy example: And that's not the only reason to visit this corner of Oregon in the winter. Here's how Yeti and Squatch can extend their trip:

Share 1:1 of illustration to real image: Post the Yeti and Squatch creative with an image of the real-life location.

Copy example: Yeti and Squatch visited one of our favorite destinations in the winter – and, yes, it really is that magical.
E-news tactics 
Link to illustration page: Make your e-newsletter pop with the illustration linking to its corresponding page on TravelOregon.com

Copy example: The secret is out: Yeti and Squatch are exploring Oregon this winter – and the found one of our favorite spots. Go there >
Examples:
Southern Oregon: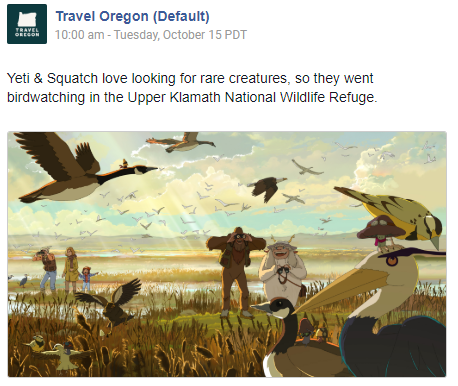 Eastern Oregon: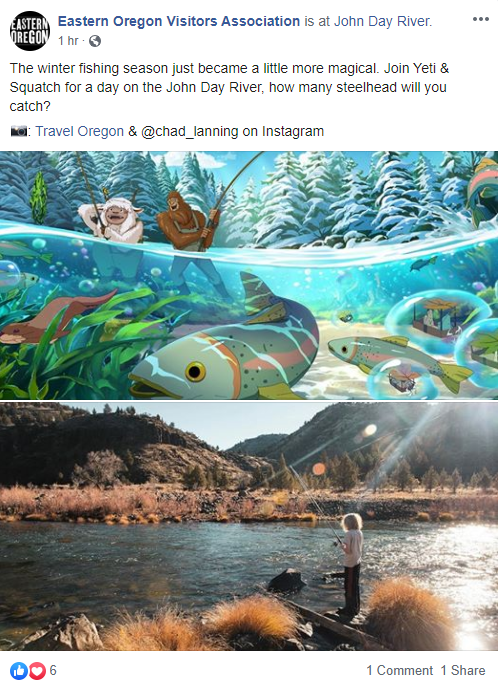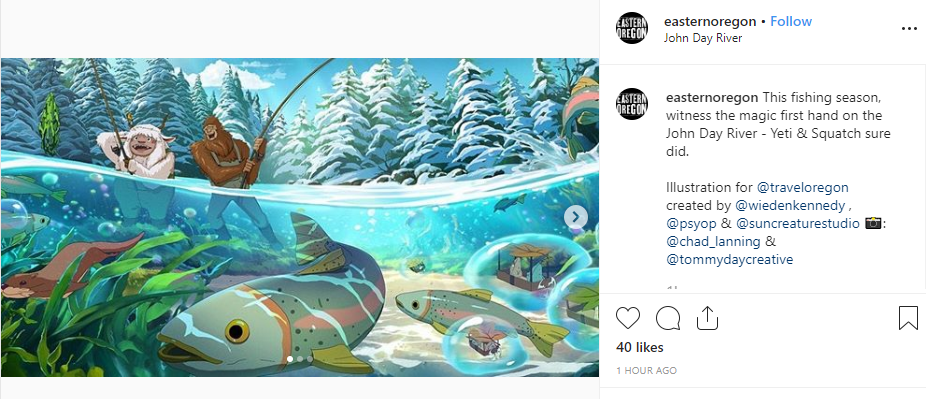 Willamette Valley
Take advantage of these resources:
If you have additional questions or comments, contact kelda@traveloregon.com.