Oregon's Seven Regions
Oregon is divided into seven tourism regions: Oregon Coast, Portland, Mt. Hood & The Columbia River Gorge, Willamette Valley, Southern Oregon, Central Oregon and Eastern Oregon.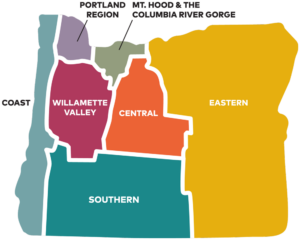 Each region has identified one Destination Management Organization (DMO) to act as its Regional Destination Management Organization. The RDMO partners with Travel Oregon for the purpose of attracting visitors to their specific region. The RDMO in each region submits a regional plan proposal for use of state dollars for the Regional Cooperative Tourism Program (RCTP). Learn more about the RCTP and regional plans.
For a list of Oregon DMOs by region, visit the Destination Management Organization page.
Access the regional collateral to understand the economic impact of tourism: