Tourism Commission Members
The commission aims to improve Oregonians' quality of life by strengthening the economic impacts of the state's multi-billion-dollar tourism industry, which employs tens of thousands of Oregonians.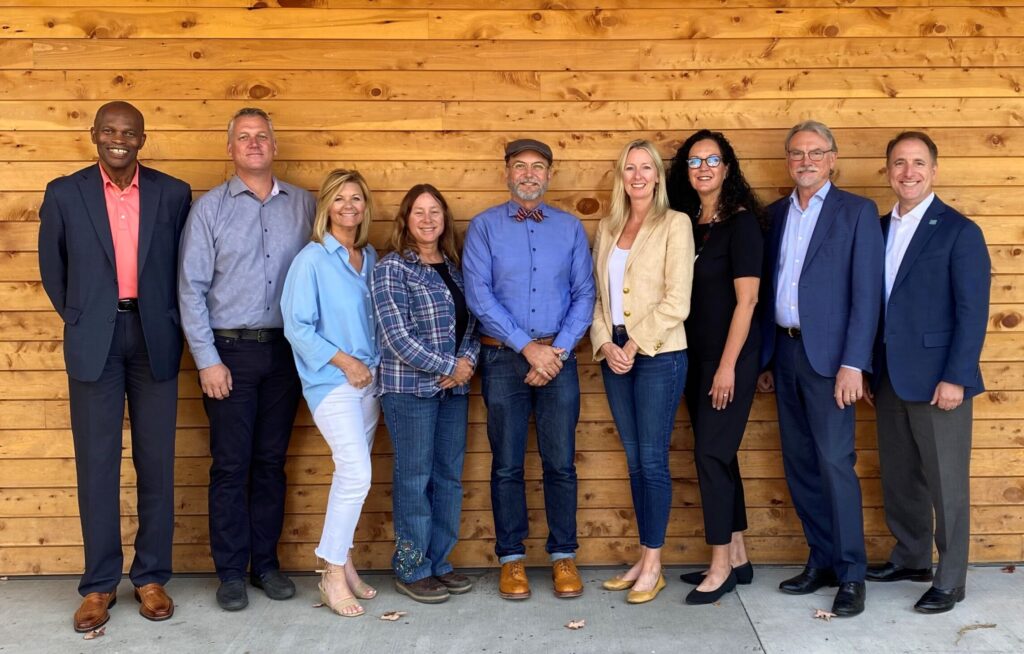 The Oregon Tourism Commission (OTC) is a nine-person governor-appointed board that oversees and approves the budget and strategic plan that directs the actions of the Travel Oregon staff. Those appointed to the commission includes: three tourism promotion representatives, five lodging representatives and one public-at-large representative. (ORS 284.107)
Commissioners are appointed to four-year terms and are eligible to serve two terms. A chair and vice-chair of the commission are confirmed on an annual basis via recommendation from an appointed commission nominating committee.

Chair - Richard Boyles
Term of Office: 9/22/16 – 6/30/23
Richard Boyles has served as President of Sycan B. Corporation, a real estate development firm located in Springfield, Oregon since 1991. In 1994 he co-founded Merete' Hotel Management, Inc. and established Iris Vineyards and Winery in 1995. Richard has served on the Board of Travel Lane County since 2003, the Board of the Oregon Restaurant and Lodging Association since 2016 and currently serves as Chair of the Clark Honors College Advisory Council at the University of Oregon. Boyle's was honored as the Oregon Restaurant and Lodging Association's Inn Keeper of the Year in 2012.

Vice Chair - Lucinda DiNovo
Term of Office 7/1/19 - 6/30/23
Lucinda DiNovo began her career in the gaming and hospitality industry 22 years ago. She is the Director of Sales and Marketing for The Mill Casino • Hotel & RV Park owned and operated by The Coquille Indian Tribe in North Bend, Oregon. Lucinda has a degree in Business Management and Marketing from Oregon State University. She is a Coos Bay City Councilor, Coos Bay-North Bend Visitor & Convention Bureau Board Member, Past President of the Bay Area Chamber of Commerce, American Leadership Forum Senior Fellow, and has served on numerous boards including the Oregon Restaurant and Lodging Association, Board of Trustees for Coos History Museum, Steering Committee Member for the foundation of Travel Southern Oregon Coast, and Advisory Committee Member for the International Port of Coos Bay.

David Gremmels
Term of Office 7/1/22 - 6/30/26
David Gremmels has been President of Rogue Creamery since 2002 and is a leader in promoting and supporting sustainable and organic agriculture and Oregon's producers, makers and growers. In 2012, 2016 and 2021 David was appointed to the Governor's Sustainability Board of Oregon. David also serves as an advisory board member for Oregon State University's Food Science, Technology and Engineering Department. He led the creation and development of the Central Point's Artisan Corridor in 2003 and the Oregon Cheese Festival in 2006 attracting thousands of visitors annually. David grew up on a farm in the Pacific Northwest and received his Bachelor of Business Administration and Marketing from Pacific Lutheran University in 2003.

David Penilton
Term of Office 11/19/21 – 6/30/25
For more than 15 years, David Penilton has been helping visitors from all over the world explore the wonders of Oregon though his tour companies America's Hub World Tours and Oregon Tour Experts. David is passionate about building an all-inclusive community in the tourism ecosystem to educate and expose Oregon residents and visitors about all the state has to offer. Through his business he is committed to making sure the economic impact of tourism reaches all corners of the state, supporting local businesses, health and education. David serves on the Boards of Travel Lane County, Our Children Oregon, Travel Portland, Oregon Tourism Leadership Academy and Clackamas Tourism Development Council. In his free time, David enjoys being in the outdoors – running, camping, fishing, hiking and golfing around the state are some of his favorite past times.
Maria Ponzi
Term of Office: 7/1/22 – 6/30/26
Anna Maria (Maria) Ponzi is the owner of amponzi & company, a wine consulting firm based in the Willamette Valley. Her lifetime experience has served both the wine and tourism industries in a myriad of ways, most importantly, as an ambassador for the state and Oregon wine both nationally and internationally. She was pivotal in helping to establish one of the state's first wineries in 1970, and it's first craft brewery in 1984. In her former role as owner and president of Ponzi Vineyards, while growing the family winery, she envisioned and set in motion the transformation of Oregon wine country into a world class visitor destination. In 1999, she established the valley's first regional wine bar and regional restaurants, and in 2013, opened it's first seated wine tasting experience. In 2020, she published her memoir Pinot Girl, and the following year successfully negotiated the sale of the winery to the prestigious Société Jacques Bollinger of Champagne, France. She continues to support the state and it's wine industry through ongoing service for multiple organizations, including Women in Wine, OWA & Salud, and her consulting and speaking engagements.
Mia Sheppard
Term of Office 7/1/19 - 6/30/23
Mia Sheppard is an accomplished fly-fishing guide, mother, and business owner. Mia and her husband, Marty own Little Creek Outfitters, a fly-fishing guide service they've been running since 2003. They continue the tradition of guiding anglers to the region's steelhead, trout, and smallmouth bass on the John Day, Deschutes, Grande Ronde, and Sandy Rivers. She also started a new business in 2017, Juniper River Adventures with a vision to connect women and youth to the outdoors. In 2015 Mia started an outdoor camp to connect youth to nature through hands on activities, science, fly fishing, and rafting. She has also been a member of the South East Oregon Resource Advisory Council and served in a leadership role with the Travel Oregon Recreation Means Business Initiative, collaborating with stakeholders to improve and expand recreation opportunities for residents and visitors.

Erin Stephenson
Term of Office 11/19/21 – 6/30/25
Erin Stephenson is the founder of a boutique lodging company with two brands: the award-winning luxury Atticus Hotel, and 3rd Street Flats, a curated collection of vacation rentals in two historic buildings in downtown McMinnville. Erin earned a degree in History from the University of Oregon before spending the early part of her career in non-profit management as the executive director of McMinnville's Habitat for Humanity and then directing the charitable giving program for a regional bank. Erin continues to indulge her passion for nonprofit work through her role as board chair of Visit McMinnville and by volunteering with various local organizations. She was named Business Leader of the Year in 2015 by the McMinnville Area Chamber of Commerce; Woman of the Year through the Distinguished Service Awards in 2019; and received the Pillar of the Community award from McMinnville's mayor in 2020.

Greg Willitts
Term of Office 7/1/19 - 6/30/23
Greg Willitts is President and partner at FivePine Lodge and Spa in Sisters. FivePine was a family effort, planned, designed and constructed by Greg and his parents. Greg has served as a board member and President for the Sisters Area Chamber and an advisor, sponsor and volunteer for some of Central Oregon's most renowned events: the state's largest MTB race, Sisters Stampede, the Fresh Hop Festival and host of the Happy Girls Run in FivePine's backyard, the Deschutes National Forest.

Scott Youngblood
Term of Office 7/1/15 – 6/30/25
Scott Youngblood grew up near Willamette Falls in Oregon City and began his hospitality career bussing tables in the restaurant at Multnomah Falls Lodge at age fifteen. Working his way up in the hospitality industry, Scott has performed almost every responsibility from cleaning and cooking through sales management and operation of large hotels with conference centers. His career has been split between the Hilton and Marriott brand families, requiring occasional relocation.