Previously Awarded Grant Projects
From the development of video and photo assets, feasibility studies, installation of kiosks, trail development and wayfinding projects, Travel Oregon has invested more than $16 million to support hundreds of projects and organizations across the state.
Take a look at what types of projects and entities have received funding to inspire your own project ideas:
2022 Capacity & Small Project Grant Recipients –

$1,405,622 awarded to 45 projects

2021 Competitive & Recovery Grant Recipients – $2,408,264 awarded to 60 projects
2020 COVID-19 Emergency Response Grant Recipients – $800,225 awarded to 121 projects
2019-2020 Small Grant Recipients – $470,996 awarded to 30 projects
2018-2019 Small Grant Recipients – $350,000 awarded to 23 projects
2018-2020 Medium Grant Recipients – $853,000 awarded to 12 projects
2017-2019 Large Grant Recipient – $2.5 million awarded (for four years) to 1 project
2017-2018 Small Grant Recipients – $400,000 awarded to 29 projects
2016-2017 Grant Recipients – $485,000 awarded to 20 projects
2014-2015 Grant Recipients – $120,000 awarded to 11 projects
2011-2012 Grants Recipients – $66,500 awarded to 12 projects
2010-2011 Grant Recipients – $60,000 awarded to 10 projects
2009-2010 Grant Recipients – $63,000 awarded to 11 projects
2008-2009 Grant Recipients – $100,000 awarded to 16 projects
2007-2008 Grant Recipients – $100,000 awarded to 15 projects
Gain a broader understanding of what projects have seen success through the examples below:
Oregon Historic Theaters Needs Assessment
University of Oregon's Community Planning Workshop was awarded a 2014/2015 Travel Oregon Matching Grant to document the physical, operational, and financial needs of Oregon's historic theaters and develop recommendations for a statewide support system. University students partnered with Oregon Main Street, the economic development arm of Pacific Power, and Travel Oregon to thoroughly survey and assess the needs of the theaters. According to the Oregon Historic Theater Needs Assessment:
Theaters are economic catalysts that spur the growth and activity of surrounding businesses. According to 2011 estimates by Portland's Regional Arts and Culture Council, each event ticket purchased generates an additional $24.24 in spending at local businesses. 
Survey results identified a significant potential for historic theaters to be an economic driver in their communities, however, most are currently facing challenges such as; aging infrastructure, lack of finances, lack of human resources, and increased competition.
In August 2015, a five-year "Action Plan" was initiated by Retore Oregon, Oregon Main Street, the Oregon Heritage Commission, Oregon Film, Oregon Arts Commission, Oregon Regional Solutions Team, Pacific Power, and the University of Oregon's Community Service Center. The "Action Plan" will further the groundwork of the survey and in 2017, Restore Oregon plans to lead a committee that will develop strategic planning and preservation tools to help restore historic theaters and see them succeed as vital cultural and economic assets in their communities.
View the Oregon Historic Theater Needs Assessment
Visit the Oregon Historic Theaters website built from the findings of this project.
Chehalem Valley Chamber of Commerce – Rain or Shine Advertising Campaign
In 2017, Chehalem Valley Chamber of Commerce was awarded a $20,000 Competitive Small Grant for a multi-media marketing and advertising campaign to inspire travel to Newberg and the surrounding area during the shoulder season of February- April 2018.
The campaign, which ran in conjunction with Restaurant Month, included a video, printed marketing materials and paid advertising with social media, streaming television and broadcast TV ads. Visitors were shown how traveling to the Chehalem Valley in winter would still be enticing as images of crackling fires, world-class food and wines, and charming spaces (streets) filled the imagery of their campaign. At the completion of the campaign, the Chehalem Valley Chamber of Commerce had built a consumer e-mail list, created a greater awareness of offerings in the shoulder season and enhanced the relationships between businesses and the destination marketing organizations in the area.
Visit the website and and watch the video:
Butte Creek Mill Foundation – Restoration of Butte Creek Mill
In 2017-2018, the Butte Creek Mill Foundation received $80,000 through Travel Oregon's Competitive Small and Medium Grant programs to help with restoration of the Butte Creek Mill after the historic building was destroyed by a fire on Christmas Day in 2015. Through the restoration process, the Travel Oregon Competitive grants have funded ADA improvements; including paved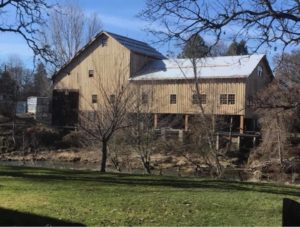 handicap parking, updated visitor access to the building entrance, and the construction of an elevator, all while preserving the historic integrity of the mill.
The Butte Creek Mill Foundation has raised over $2 million to rebuild this Southern Oregon icon, known as the "capital of Eagle Point." Once the full restoration is complete and operational, visitors of all ages and abilities will be able to enjoy the locally sourced products and rich history that this building has provided for over 130 years.
Restore Oregon – Historic Theater Conference
Restore Oregon was awarded a $15,000 Competitive Small Grant to help fund 21 scholarships to historic theater organizations across the state, to attend the 2018 League of Historic American Theaters regional conference in Portland. Through this grant, Restore Oregon, was able to connect owners/operators facing similar challenges and facilitate conversations about how to strengthen their efforts in restoring and operating historic theaters.
"This is the best opportunity some of these communities will ever have to strengthen their theaters and their downtowns. This project will ultimately result in improved community development, livability, and quality of life for Oregonians and a positive, measurable economic impact to our state and local communities," said Nicole Possert of Restore Oregon.