Certification for Sustainable Transportation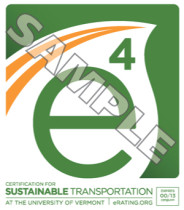 Travel Oregon is pleased to partner with the Certification for Sustainable Transportation (CST) to offer Oregon transportation companies the opportunity to participate in CST's signature programs including: eRating Vehicle Certification, Eco-Driver and the Idle-Free Driver Certification. CST's programs have rigorous standards, quality educational services and branded marketing materials that make it the most unique and comprehensive energy efficiency, environmental, and economically-driven program of its kind.
Travel Oregon has developed a scholarship fund, which is currently available on a first come first serve basis, for Oregon transportation companies to participate in CST's premier Certification programs! As a result of becoming Vehicle and/or Driver Certified, companies will reduce their costs, save energy, and decrease environmental impacts and receive special recognition through Travel Oregon's marketing channels*. In addition, we aim to help provide travelers looking to choose sustainable transportation with a network of easily identifiably options.
*Note: Participating businesses that face the tourism industry will receive Travel Oregon Forever program marketing benefits, which include: 
Assurance that your business is included on TravelOregon.com & Industry.TravelOregon.com
Elevated business listings on TravelOregon.com
A Travel Oregon Forever welcome packet including window clings, stickers and a toolkit
A wooden, artisan-made Travel Oregon Forever award to display proudly at your business
Possibility of inclusion in Travel Oregon staff developed itineraries and story/media pitches associated with sustainability
If you are interested partaking in or learning more about this opportunity, please contact Certification for Sustainable Transportation (CST) directly by emailing Team@eRating.org  or calling (802) 656-9141.
eRating Vehicle Certification Participants: