Travel Oregon worked with Longwoods International to identify the profile of Oregon's domestic visitors in 2017. The purpose of this study was to provide information on the structure of the Oregon travel market as a whole. This study includes data on visitor activities, state of origin, regions visited and demographic profile of visitors to Oregon.
Review a snapshot of the profile of Oregon visitors and their travel behavior: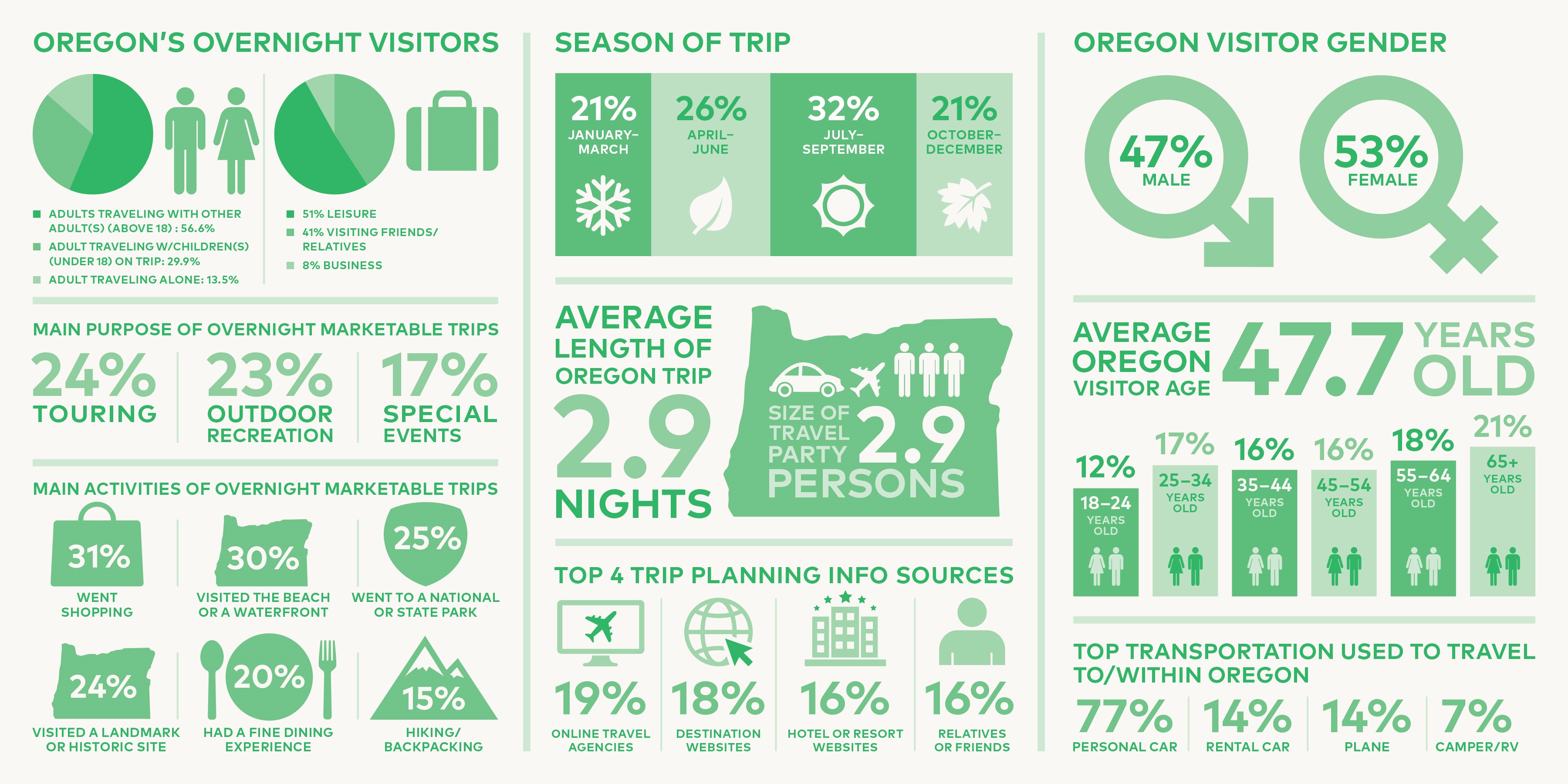 Key findings from this research are as follows:
The number of marketable trips* to Oregon increased by 31% from 2015 to 2017.
More than eighty percent (81%) of visitors on an overnight trip to Oregon were very satisfied with the overall trip experience. The next highest-ranking categories for satisfaction were friendliness of the local people (69%) and safety and security (69%).
The top three motivators for overnight marketable trips to Oregon were:

Touring (24%)
Outdoor Recreation (23%)
Special Event (17%).

The top five activities overnight visitors experienced were:

31% went shopping
30% visited the beach or a waterfront
25% went to a national or state park
24% visited a landmark or historic site
20% had a fine dining experience

The average number of nights spent in Oregon on an overnight trip was 2.9 nights, remaining steady from 2015. The average travel party size was 2.9 persons.
About three-quarters (77%) of overnight Oregon visitors arrived by personal car or truck.
Similar to the national average, nearly half (47%) of the overnight trips were planned two months or less before the trip.
Similar to the national average, 9% did not plan anything in advance.
74% of travelers to Oregon use social media for the following purposes:

37% posted travel photos/video online
33% read travel reviews
30% looked at travel photos/video online
19% accessed travel news/events/deals/promotions
16% read a travel blog
13% connected with others interested in travel
13% contributed travel reviews
11% got travel advice
* Marketable trips are defined as those trip types that can be influenced by marketing efforts and include leisure and business-leisure trips. 51% of Oregon overnight trips currently fall under this category.
Photo provided by Port of Portland