Sales and Marketing Opportunities
Inspiring visitors to choose Oregon, an unparalleled destination, is our job. Travel Oregon's award winning marketing and sales campaigns help the state stand out from the competition and offers excellent value to our partners. We invite you to be a part of something big by joining efforts and helping all of us inspire travelers to choose Oregon.
Our programs are tailored to provide you opportunities that leverage our targeted marketing communications and allow Oregon destinations and attractions to efficiently reach travelers who are more likely to be inspired by our partners' travel product messaging.
Our goal is to extend the reach and impact of Oregon's advertising program as well as to maximize the resources of the entire Oregon tourism industry.
About the video: Travel Oregon's fall advertising campaign promotes culinary tourism in western region markets and Vancouver, BC
Oregon Bounty Toolkit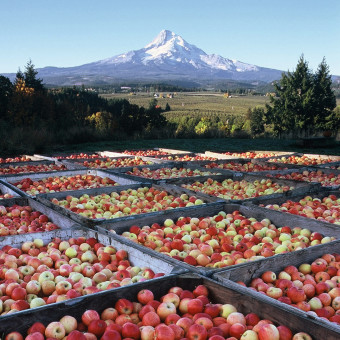 Every fall, Travel Oregon showcases the culinary experiences in every region of the state in order to encourage overnight stays during this typically slower season. The Oregon Bounty Toolkit is filled with videos, sample copy, photos, banner ads and more to help strengthen your fall marketing efforts.
News and Press
November 25, 2013

In this issue: Communities Powered by Travel Outstanding Oregon Tourism Professionals Oregon Coverage Recap Governor's Conference Sponsorships Read the issue…

November 25, 2013

An article announces the opening of Columbia River Gorge Trail. View the article here: http://blogs.seattletimes.com/northwesttraveler/2013/11/19/trail-segment-opens-linking-34-mile-columbia-gorge-ride/

November 25, 2013

A feature article announces the opening of the Columbia River Historic Highway as a significant milestone for cyclists. View article…
Upcoming Events
December 13, 2013
January 11 - 15, 2014
February 4, 2014