Welcome Center Brochure Program
Did you know that Oregon's Welcome Centers assisted approximately 192,000 visitors in 2018?
Capture the attention of these engaged travelers at the right time and place by displaying your brochure or visitor guide at one or more of the seven Oregon Welcome Centers at high-traffic gateways to the state!
Travel Oregon's program partner, Certified Folder Display Service, Inc., is North America's largest professional travel brochure distribution and display service. New program features for the 2018 season include:
Streamlined Shipping and Storage
Ship all material for distribution at any Oregon Welcome Center to just one location. Certified will do the rest!
Ship all material once, if preferred
Flexible Participation Options
Now available: 6 and 12 month distribution options
Digital Promotion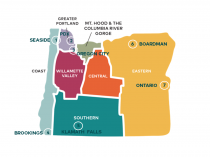 Distribution Schedule
The distribution cycle coincides with the Welcome Center seasonal calendar, May – May. Sales for the 2017-2018 season will begin in January 2017. More information will be posted at that time.
Certified Folder Display
Matt Preston, Oregon District Sales Manager
mattp@certifiedfolder.com
(503) 252-2570
http://www.certifiedfolder.com/distribution/oregon-welcome-centers/